Dutch Kills in Long Island City has become one of New York City's most sought after hotspots. As a former industrial hamlet, it has evolved into a culturally rich area of Queens that is well worth visiting with an abundance of luxury apartments.
Partake in exclusive establishments that are within walking distance of some of the best Long Island City luxury apartments – for those who may be considering a relocation as many others have.
Long Island City is the fastest growing neighborhood in the United States for many reasons. Dutch Kills stands out at the top, with its impressive range of eateries, proximity to Court Square, and multiple art venues scattered throughout the area for residents and visitors.
Below is a small sampling of some of the unique cultural experiences that you can find here, with the character and offerings of this thriving micro-neighborhood changing every day.
Etto Espresso Bar
Etto Espresso Bar is located at 42-77 Hunter St, Long Island City and is a highly reviewed recently opened Manhattan style coffee café founded by Paul Bordone and Frank Zummo for the purpose of offering an enriching coffee experience, a short walk from many of Long Island City's luxury apartments.
The coffee is unquestionably robust and satisfying no matter which option you choose to go with, but on top of that you'll find some delicious lunch sandwiches to keep you going throughout the day. It's an ideal stop before heading out to work or for a quick lunch if you happen to work in Long Island City.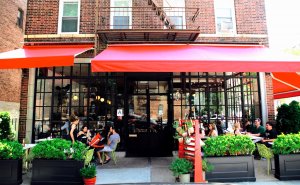 Toby's Estate LIC Café & Courtyard
Toby's Estate LIC Café & Courtyard is just a block from the Court Square station and near to many luxury apartments in Long Island City in Dutch Kills such as ARC. It's another opportunity to experience what gourmet coffee should be in combination with mouth watering sandwiches, breakfast items, and bakery selections from some of the best in NYC.
The décor of this café pays homage to the industrial roots that founded Long Island City while mixing in contemporary touches. This is the place to go for expertly made espresso, because Toby's truly is an authority on brew methods, offering barista classes, certifications, home brewing classes and other training options for those with a casual interest as well as professionals.
Mu Ramen
Head over to Hunters Point to 1209 Jackson Ave just a short bus ride, Uber or walk away to indulge in one of the top Ramen experiences in Queens at Mu Ramen. This brick walled cash only spot does ramen just right and has quickly become a local favorite because of it, with moderate prices and virtually perfect execution on every menu item.
The light and sumptuous broth here is so good that you could trick anyone into believing that it's a closely guarded secret. Pretty much anything you order here is guaranteed to be stick-to-the-ribs satisfying, so feel free to experiment and try that new ramen dish you've been craving.