Do you ever wish you could go to a coffee shop and spend the whole day there without getting weird looks? Your wish has been granted. If you live in LIC, we found just the place for you. At Indie, you come early in the morning for delicious organic coffee and pastries, and stay late for gourmet dinner and curated wine selection.
Indie owner Shaunna Sargent aims to build an atmosphere perfect for you no matter your mood or craving. Shaunna's second restaurant plays a big role in her life as she herself is a Long Island City resident. Get to know her and what makes the Indie so much more than a typical restaurant.
Indie is new to LIC. Why did you decide to open your second location in this neighborhood?
I actually live in the building! And I've lived in LIC for four years now. Two years ago, I started thinking about opening something around here because of the great neighborhood vibe and lack of restaurants in our immediate area (not as much the case anymore!) I looked in a couple other buildings, but came full circle back to this space.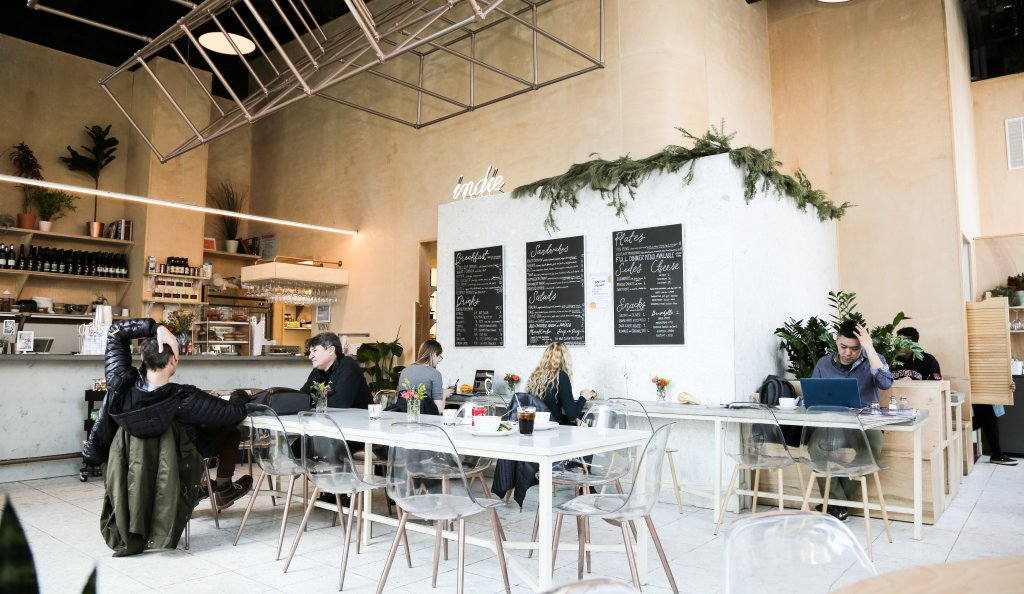 Everything –from the menu, to food presentation, to interiors– looks very simple, yet sophisticated. How would you describe the concept of the restaurant?
Our concept is pretty simple: we want to be a cool neighborhood restaurant that you can be in from morning until night and enjoy yourself. Our food and cooking are light because this is a retail space, and we don't have a real kitchen. So we put real thought into the recipes– we make everything from scratch. Using responsible and exceptional ingredients is super important to us. We are a fast-casual counter service restaurant by morning and afternoon, and a full-service restaurant by night. We serve coffee, pastries, breakfast, lunch, snacks, wine, beer, cocktails, dinner and dessert. What more do you need?
The wine list and the menus look eclectic. What is the inspiration behind them?
My background is being a chef, and I've worked in a lot of different restaurants. My passion is Italian food. The philosophy is easy: you can take a beautiful ingredient and not do much to it, but pair it with other beautiful ingredients. What you get as a result is really delicious food. And I understand that we are not pushing any boundaries here. The food is simple, but it is the most delicious version of simple. We want it to be super accessible as well.
The wine list is very special to me mainly because I completely adore wine, but also, I take very serious. I even started taking sommelier classes last year. What we offer is the very best value that we can get from the very best wine areas of the world, so we don't have to pay $18 for 5oz of wine. You're going to get a real 8oz glass of wine for under $14, and we're going to be able to tell you everything about what's in your glass and why it's special.
What is your favorite item on the menu?
I think everyone needs to try the rotisserie chicken sandwich. We have a similar chicken sandwich at our other location that is super popular, but at this location we have a rotisserie! So the chicken is a notch above, and I just really love it. But I can honestly say that I love everything on the menu. I've been eating this food almost every day for 6 years and I'm still not even slightly sick of it.
Why do you think locals and guests of the neighborhood should visit Indie and make it their go-to place?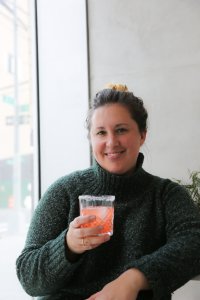 I really feel like we offer something for everybody, and when you come, you're going to be able to trust the product you're getting. It is the fact that you will be eating responsibly grown meat, that your coffee will be from Irving farm and is made by baristas that have been through training, that the eggs are local, and that the bread is organic, that the wine is organic or sustainable or both, that our to-go paper products are recyclable, that service is good… Every single aspect of the restaurant experience is important to us, and we hope that it comes across. And we're super affordable –that's always a plus!