Founded on the simple concept of perfecting American comfort food, Sanford's became a staple in Astoria over 80 years ago. Thanks to a casual yet trendy environment, an extensive whiskey list, with world class food, it's easy to understand why Sanford's attracts a crowd from all boroughs. We sat down with owner Gus Karalekas to talk about this iconic steakhouse.
Sanfords started back in the 30's. Is there any part of it that still carries the traditions, or has it been completely re-done to fit modern day?
Everything we do is steeped in the history & tradition of Sanfords, above all our focus on comfort food which goes back to our coffee shop/diner days where my brother and I grew up. A lot of our staff has grown with us through the year, some people have been here over 25 years, including our GM Armando, he started here as a busboy.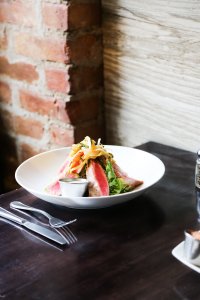 From our commitment to buying the best possible ingredients and giving the best service which was engrained in us by our father, as well as treating our staff with respect and pushing them to grow, hence the loyalty we have from all our staff, they are as much vested in the business as we are. Those are some of the biggest reasons we lasted this long, and why our reputation is beyond reproach, we try to stay ahead of every curve and evolve as need be, and as often as need be.
The restaurant has worn many awards. Which one are you most proud of?
Have to say, while we have received dozens of awards for our food, our most proud has to be from Whisky Advocate for top 40 whisky bars in America, and from the Bourbon Review, top 100 Bourbon Bars in America, only 1 year after we added the whisky bar to the restaurant.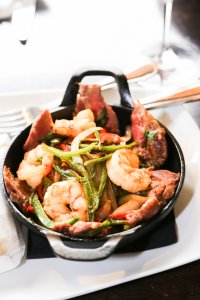 When we decided to add a bigger bar to the restaurant during our last expansion, we didn't want to just add another bar, and since Chris and I were avid whisky drinkers and collectors for years, it was almost a natural direction to take. A bit of a gamble, but well worth it, whatever we do we try to take it out of the box, while sticking to our core values and theme, the whisky bar seemed to be a natural fit with the comfort food, plus no one in Queens, and only a handful in NYC, have the brown spirits collection that we have here.
You are famous for your whiskey and bourbon selection. Who is the curator of the list? And what is the inspiration behind it?
Chris and I both curated the list, but more Chris, as I focus more on the food. Everything on the list was tasted before being put on the shelf, we didn't just throw up whisky to throw it up. We developed quite a palate for brown spirits the past 8 years, and have been sourcing bottles for over 5 years in anticipation of adding the whisky bar. You will find a lot of labels on our list that are not available anywhere else.
What is your favorite cocktail?
I'm a fan of the classics and of course whisky based. My go to –An old fashioned and our barrel aged Manhattan.
And what would you get from the dinner menu to go with it?
Our 18oz, 28-day dry aged bone in Strip Steak for sure, with truffle fries and creamed spinach.
What do you think locals and guests of the neighborhood would like the most about Sanfords?
Besides the great food and drinks, I would say our un-pretentiousness and our staff. The overall vibe you feel once you are seated, it all meshes well, the sound, the décor… you just feel good when you're in here. Our customers know what I mean, and I hear it day-in and day-out from them, which is one of the most rewarding feelings.